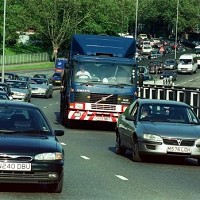 Motorists in London could one day have the option of using a network of underground toll roads, if Boris Johnson gets his way.
The Mayor mooted the idea during a visit to Boston, US, where there is a similar idea in place.
It would mean drivers would probably face charges in so-called "fly-unders", under the plan to redesign major roads.
Mr Johnson said that taking main highways underground would improve air quality and free up space for parks and housing, which would partly fund the road-building.
Hammersmith's A4, New Southgate's A406, Chalkers Corner's A316, Tolworth's A3 and Barking Riverside's A13 are among the roads which would likely be re-routed underground.
The Mayor singled out Hammersmith's A4 - with a flyover he describes as extremely "old" and "mouldering" - as an example of a main route which could be given a new sub-surface twist.
Mr Johnson's Boston visit had to be truncated due to snow which has totally buried some cars in the area.
Copyright Press Association 2015