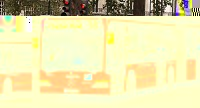 A new report published by the RAC Foundation claims plans to replace bendy buses in London with new routemasters are misdirected.
London Mayor Boris Johnson made the policy a key part of his 2008 electoral campaign, but Professor Stephen Glaister, of the RAC Foundation, said the capital lacks an "overall strategy for transport".
He said the bendy buses are inappropriate in some areas of London, but they "carry more people, more quickly than double-deckers ever will".
Mr Glaister also called on the mayor to focus in the "bigger problems of transport in the capital" rather than niche methods such as cycling.
The report predicted population increases by 2025 would mean an extra four million journeys being made per day in London.
Author Peter Brown said the day-to-day management of the road network system is being left behind as engineers work on the transport infrastructures needed for the 2012 Olympics. He also called on bosses to commission road works to be carried out at night time in order to ease congestion in London.
The mayor's transport advisor, Kulveer Ranger, responded to the report, calling it "misguided".
Copyright © Press Association 2009