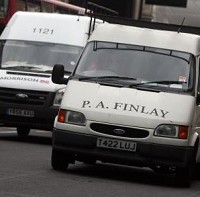 Boris Johnson wants action taken to cut back London's expanding white van population.
The Mayor estimates the number of such vehicles will jump by 20% over the next 16 years through online shopping alone. He claims the vans are already clogging up London's roads.
Last year the RAC Foundation found that so-called "White Van Men" are taking over the country's roads with Britain's light van numbers growing by nearly a third from 2002 to 2012.
The Foundation believes the answer lies in the growth of safe drop-off points so that consumers can carry on enjoying online purchases without helping to increase inner-city traffic jams.
RAC Foundation director Steve Gooding says: "When it comes to internet deliveries it is no surprise people are receiving goods at work because obviously they are not at home during the day to receive them there.
"The mayor has already recognised this and is helping some firms establish click and collect points at Tube stations.
"Surely the emphasis should be on expanding the number of secure drop off points so we can all benefit from the convenience of internet shopping without adding to city-centre congestion."
Mr Johnson wants a return to the steps taken while London staged the 2012 Olympics. This period saw specific marshalling areas and delivery companies encouraged to avoid rush-hour traffic and scrutinise how they could use more efficient cargoes.
Copyright Press Association 2015