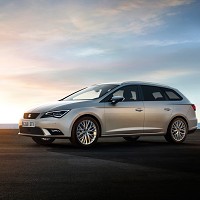 Seat claims it has taken luggage space to a new dimension with its first-ever Leon estate.
With 587 litres of boot space, the new Leon ST compares with the Skoda Octavia hatchback. It also has a new dimension of practicality, with a dual-level floor, which brings it just 23 litres short of the load volume found in the Octavia estate.
Although only available for certain trim grades, the range of high-tech options that set it apart from the, otherwise similar, five-door Leon include Adaptive Cruise Control (ACC), Adaptive Chassis Control (DCC) and Progressive Steering.
All the engine choices, which range from the 1.2-litre TSI petrol with 104bhp to the 181bhp 2.0-litre diesel, will have stop-start and energy recovery systems. Even the cheapest petrol engines will be capable of more than 57mpg, and car insurance and breakdown cover deals are widely available for all models.
Final confirmation is still sought on the fuel efficiency of the 104bhp 1.6 diesel, with most recent tests recording a capability close to 70mpg. The 2.0-litre diesels, with 148bhp and 181bhp, achieve 68.9mpg and 65.7mpg respectively. Both the 2.0 diesels are in band B for road tax, which therefore attract no charge in the first year and just £20 after that.
Copyright Press Association 2013