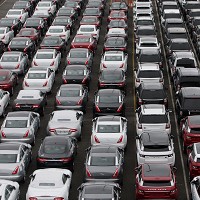 New car sales in the UK have risen consecutively for a year and a half, with the boom showing no sign of slowing down any time soon.
Purchases were up for the 18th successive month in August, and the introduction of the new 63 number plates is expected to drive even more sales before the end of 2013.
Figures from the Society of Motor Manufacturers and Traders (SMMT) show that a total 65,937 new vehicles were registered last month - up 10.9% year-on-year.
As a result, the total so far in 2013 stands at 1,391,788. This is a rise of 10.4% compared with the January to August period in 2012.
"Private and fleet buyers are clearly capitalising on attractive deals and new technologies against a backdrop of increasing economic confidence," said the SMMT's new chief executive Mike Hawes. "The August rise bodes well for the new 63 plate."
Manufacturers often have numerous low finance packages for buyers to choose from, while some throw in freebies like car insurance to sweeten the deal.
The SMMT predicts that total new car sales could reach just below 2.22 million by the end of 2013, which would represent an 8.4% rise on the 2012 total.
Copyright Press Association 2013