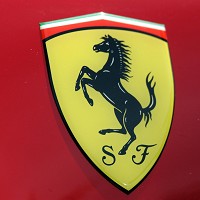 Some 80 cars dating from the past 90 years have been exhibited to mark a Bonhams sale hotly anticipated among classic car enthusiasts.
With a combined value of an estimated £3 million, the vehicles include a 1917 Fiat and a 2004 Ferrari due to be sold at an auction at the RAF Museum at Hendon in north west London.
The selection also features a rare 1958 Mercedes-Benz 300SL Roadster which has been owned by a collector for eight years and could be sold for up to £500,000.
Another highlight is a 1929 Bentley 4.5 litre Tourer (valued at £350,000 - £400,000) which has been given extensive restoration.
Collectors seeking a vintage vehicle can also bid for one of the oldest right-hand drive Jaguar E-Type roadsters in existence (valued at £25,000 - £30,000). Bought in 1965, this 1961 car was retired in the early 1980s and has been stored in a garage for over three decades.
The most valuable car is predicted to be a 2004 Ferrari Enzo Berlinetta (valued at £800,000 - £900,000) which has had just two owners and has clocked up only 800 miles.
Bonhams motor car specialist John Polson said: "The RAF Museum provides a perfect and evocative backdrop for a sale of collectors' motor cars and this is always an auction that attracts a good crowd."
Copyright Press Association 2013