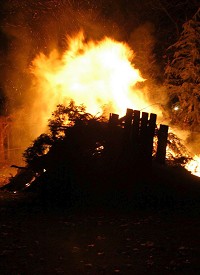 Latest figures have shown that the worst date in the year for car theft and burglaries is Bonfire night on November 5.
The number of car thefts goes up by 25% and burglaries rise by 265 compared with an average day, according to insurance firm Aviva.
Claims for fire also increase by 45%, compared with average figures compiled over the past 10 years.
Figures also showed Halloween is a busy day, with average claims of £1,000 for vehicles, and £550 for property.
The top five malicious damage claims that night are smashed windows, damage to doors, car vandalism, food or paint fights and damage to garden items such as wheelie bins, fences and plant pots.
Greg Gladwell, director of property claims at Aviva, said: "We always warn homeowners to be extra vigilant when the clocks go back. Obviously the extra hours of darkness give opportunist thieves more time and better cover to slip unnoticed into your home or garden shed.
"On top of that we have Halloween that often becomes a night of more damaging tricks than treats, and bonfire night which means plenty of homeowners are out enjoying parties so cars are left unattended and homes empty. Of course the additional noise means any suspicious sounds, like smashed windows, aren't heard."
Copyright © Press Association 2009