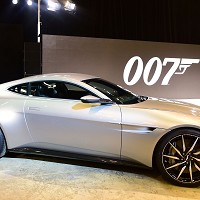 James Bond's latest ride is to be shown off at a free-to-view motor show later this month.
The unique Aston Martin DB10, which stars in Spectre, will be one of the attractions at the Regent Street Motor Show in London.
Petrolheads and fans of the movie franchise can get up close with the car, which was hand-built specially for the new film.
Ever since 007 - then played by Sean Connery - drove the famous DB5 in Goldfinger in 1964, Aston Martins have become synonymous with the UK's favourite secret agent. Daniel Craig was the lucky actor behind the wheel this time.
The DB10 will take pride of place at the Regent Street Motor Show on Saturday 31 October, along with a number of other cars from the luxury automaker's current model range, including the latest DB9 GT, limited edition Vantage GT12 and a four-door Rapide S.
Around 350,000 people came from far and wide to get their motoring fix at the event last year - and a similar number is expected again, as cars past, present and future take over London's premier shopping street.
Copyright Press Association 2015