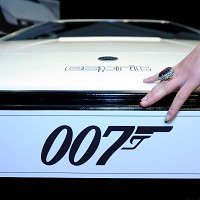 A car made famous by the James Bond film The Spy Who Loved Me has sold at auction for £550,000.
The Lotus Esprit submarine car was the subject of a fierce bidding war between a female hopeful and a telephone bidder, with the latter eventually prevailing.
The car, which was sold at RM Auctions in Battersea, South London, was specially designed for the 1977 film which saw Roger Moore play the iconic spy 007.
In the film, Bond and his female accomplice Anya Amasova, played by Barbara Bach, use the unusual-looking car to evade an attack by a helicopter, launching the Esprit off a pier into the sea
The car, nicknamed 'Wet Nellie' is actually a fully operational submarine but is unable to be driven on the road, eliminating the need for breakdown cover .
As the bidding war intensified, people in the room encouraged the two bidders by clapping.
The eventual victor will pay out £616,000 once all charges have been taken into account.
The selling price was actually under its estimated price of between £650,000 and £950,000 but Peter Haynes, from RM Auctions, said he was pleased with how the sale went.
"We are very happy with that price, it is very strong money for what is an important piece of movie memorabilia," Mr Haynes said.
"Bearing in mind it is not a car that can be driven on the road, the price just goes to prove the draw that all Bond-related memorabilia has."
Copyright Press Association 2013