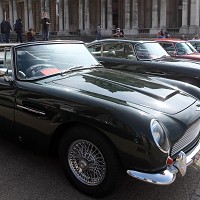 Historic car expert Coys is to put a 1955 Aston Martin with special links to James Bond up for auction.
The Aston Martin DB 2/4 is thought to be the model that inspired the car driven by the famous spy in the 1964 film Goldfinger.
It has not been driven for many years and has only recently been restored by a father and his son, who discovered the links to the Bond vehicle.
As you'd expect, the DB 2/4 comes with a number of extra features such as a heavy-duty anti-interference ignition system, reinforced steel bumpers and two-way radio connections at the driver's seat.
It also features a device which can calculate time and distance with regards to a pre-selected average speed.
The car is expected to be sold for up to £250,000 at the auction at Blenheim Palace, Oxfordshire, on July 12.
Coys managing partner Chris Routledge described the car's history and its discovery as "phenomenal".
He added that the Aston Martin used to belong to Philip Ingram Cunliffe-Lister, son of Lord Swinton, who was the head of MI5 during the Second World War and a close friend of Winston Churchill.
It was regularly parked next to Ian Fleming's house in Kent, and the property where it was parked was also the inspiration for the villain Drax's residence in the James Bond novel Moonraker.
Copyright Press Association 2014