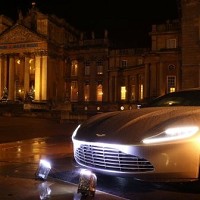 A biopic all about Aston Martin's new Bond car has been screened at a drive-in cinema, with all guests arriving in motors made by the British manufacturer.
The DB10 documentary about the car in the new Spectre film tells how the motor came into being through each step of its evolution right up to the current day.
Blenheim Palace's Great Court was the setting for the Aston Martin gathering on Sunday November 8, with the new DB10 also in attendance.
The 18th-century country house was used for some of the scenes in Spectre, including parts of a typical Bond car chase.
The DB10 is a fully operational, high-performance supercar in its own right, although it was primarily meant to be a bespoke model for Spectre.
A limited run of 10 of the cars will roll off the British company's production lines, with c ar experts claiming this will make it among the most yearned for, yet unattainable Astons ever made.
Designers say the DB10 balances the traditional Aston Martin look against the image associated with James Bond himself, which has been described as "brute in a suit".
The DB10 jostled for top billing on Sunday with an Aston synonymous with the British spy film franchise - the DB5.
The old treasure, which commands a price tag of roughly £33,600, has a detailed interior and benefits from typical Bond gadgetry, such as revolving number plates.
Copyright Press Association 2015