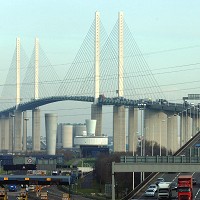 Kent Police have confirmed that a 27-year-old man held after a bomb hoax which led to the Dartford Crossing being closed on Friday has now been detained under the Mental Health Act.
Officials said that the man, from Bournemouth, is alleged to have made threats of a suspicious device aboard the coach he had been travelling on, as well as making a further threat about an explosive device on another coach.
He has been in police custody since being arrested on Friday and was transferred to a secure unit under the care of the Health Authority on Saturday.
Police said they recovered a cylindrical device with wires heavily sealed inside a bag from the first coach.
Both the QE2 Bridge and Dartford Tunnels were closed for about seven hours during rush-hour on Friday night as a result of the incident, with tailbacks reaching nine miles at their peak. Traffic was also stopped from using the A20 at Dover.
Copyright Press Association 2013