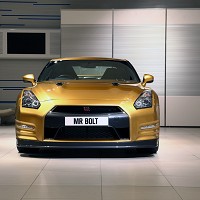 The world's fastest man, Olympic champion sprinter Usain Bolt, is working with Nissan to create special edition GT-Rs.
Nissan has already produced a unique gold GT-R in honour of Bolt's Olympic achievements.
The car, whose interior fittings are finished in genuine gold, will be up for auction on eBay to help the runner's charity - Usain Bolt Foundation - offer more opportunities for children in his home country of Jamaica.
The Japanese car company also named Bolt as their 'Director of Excitement'.
Bolt has already started looking at a breakdown of possible options for a career after he retires from running.
The sprinter will collaborate with a Nissan team of product specialists on a limited edition run of GT-R models to be sold "throughout the world".
The Jamaican star had earlier given his input into the development of his very own 'Bolt GT-R' for his personal use, and spent days testing a number of GT-R models at Nissan's proving ground in Oppama, Japan.
Bolt said: "Racing is my inspiration, and I want to help Nissan become an even more exciting brand for everyone."
The gold Bolt GT-R will be put on the auction block later in October.
His signature is embossed on the car, which sports a one-off paint job and interior fittings finished in real gold.
Copyright © Press Association 2012