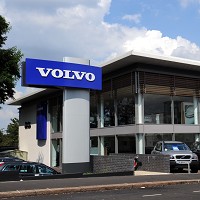 Volvo is so confident in the standard of its V40 model that it has come up with a unique challenge for customers still undecided about the model.
The company is challenging consumers to test drive the compact hatchback against a Mercedes A-Class to decide which they should buy. T
he 'V40 Challenge' is open until July 31 and the campaign includes Volvo's tagline suggesting "Bored of German Techno? Try some Swedish Metal".
Volvo is asking its customers to challenge their own perceptions through back-to-back test-drives of the V40 D2 R-Design and then the Mercedes A-Class A180 CDI Blue Efficiency sport.
The company boldly states that if the customer still prefers the Mercedes, their participating Volvo dealer will pay the first month's payment of up to £299.
This is subject to the customer having met certain terms and conditions, but is a handy sum that could be put towards car insurance .
Sales director for Volvo Car UK is Jon Wakefield, who confirmed the company's belief in the all-new V40, given it had been a roaring success since its introduction.
That belief was bold enough for the company to 'put our money where our mouth is', he added.
Mr Wakefield continued: "I have no hesitation in telling people what a great car the V40 is, and by getting more and more people to test drive it, I'm sure more and more people will agree with me."
Copyright Press Association 2013