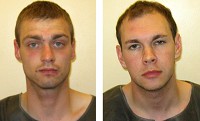 Police have jailed two bogus car salesmen who put up fake adverts on a website in order to rob their unwary "customers".
After advertising vehicles on Gumtree, Richard McCrorie, 25, and Alexander Gould, 22, would meet potential buyers in quiet, residential areas in rich parts in the county.
A Surrey police spokesman said they insisted every payment was made in cash. Then, using guns and metal bars, they would attack and threaten their victims who had arrived to see the car.
Surrey Police's Serious Crime Investigation Team officers caught the cousins in an intelligence-led operation after uncovering a pattern in the robberies.
Guildford Crown Court sentenced McCrorie, from Fleetside in West Molesey, Surrey, to seven years in jail and handed six years to Gould, of Norley Drive, Manchester.
In the operation, officers claiming to be a couple interested in a car who had replied to an advert for a BMW.
The pair arrived at the agreed meeting armed with a knife and a gun to attack what they thought was the couple's white van.
Instead, police officers inside the vehicle subdued them with Tasers and arrested the duo.
Copyright © Press Association 2009