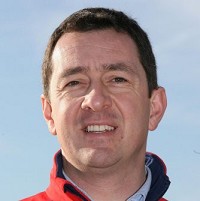 Former Olympic cycling champion Chris Boardman has criticised the Government for not giving enough attention to pedestrians and bike users on the streets.
Boardman, who is now British Cycling's policy adviser, believes the Government's priorities when it comes to road building are entirely the wrong way round.
He believes walkers should be given the most attention, followed by cyclists, then public transport, then taxis, then private cars. However the 1992 Olympic gold medallist says the current Government's priorities are the exact opposite.
In an interview with Radio Times, Boardman argued it makes no logical sense to prioritise vehicles over people on the streets, when the volume of car traffic is dropping.
Boardman is taking part in this weekend's RideLondon event and says the event shows the passion there is for cycling and puts more pressure on politicians to make the sport more accessible.
He said cycling as a sport and as a means of transport has no downsides, and is "infuriated" by the Government's reluctance to fund and prioritise it.
Copyright Press Association 2014