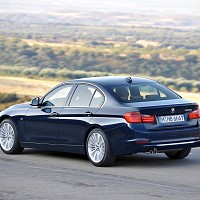 The brand of motor car which produces the most power for a given output of carbon dioxide (CO2) has emerged as BMW.
Munich-based BMW beat its German rivals Audi and Mercedes, winning with a figure of 0.74g of CO2 produced per kilometre (km) per brake horsepower (bhp), according to the calculations of www.cleangrencars.com.
Premium manufacturers Mercedes and Audi came second and third respectively, with 0.81g/km/bhp and 0.83g/km/bhp.
The results show that large investments by the three motor manufacturing industry giants can make significant changes to their ranges.
Having created super-efficient yet powerful diesel engines, all three brands, which often use larger-capacity powerplants, are moving ahead of specialist supermini makers.
A spokesperson for www.cleangreencars.com said: "Buyers need to check carefully which engine to go for, even within the same model range."
Copyright Press Association 2012