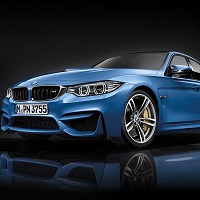 Car enthusiasts will be pleased to hear that BMW has unveiled the new M3 and M4.
Both will arrive in the UK next year, bringing with them a tyre-shredding combination of power and speed.
They are essentially the same car underneath the hood. Each boasts a 425bhp six-cylinder engine that sends all the power to the rear wheels, accelerating from 0-62mph in just 4.1 seconds as long as the clever dual-clutch automatic gearbox is installed.
Aesthetics-wise, however, there are a number of marked differences between the two new kids on the block.
The M3, for instance, is built as a four-door, slightly more forgiving saloon, while the M4 as a harder-edged two-door coupe.
Many experts are tipping the M3 to be the real star, with its superior practicality and more comfortable ride expected to appeal to the vast majority. It's also a bit less showy, which means drivers will blend into the road.
Prices will no doubt be on the steep side, so drivers wanting to get their hands on the models should start saving now.
Copyright Press Association 2013