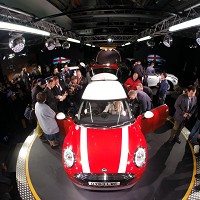 BMW has announced the new Mini will be built in Holland as well as in the UK - in a bid to expand production capacity amid the increasing popularity of the famous small car.
While the company's plant in Oxford will remain at the heart of Mini production, BMW said it needs extra space to meet strong demand for the vehicle.
Under the plans, production of the Mini Hatch will be split between the Oxford site and a factory run by the German car maker's Dutch partner, VDL Nedcar.
Head of production Harald Kruger hailed the "substantial growth" of the Mini brand, saying: "This is why we need additional, external production capacity on top of the capacity of the Mini plant in Oxford which stands at about 260,000 units per year in the medium term."
Mr Kruger said the experience at Nedcar makes it "an ideal partner for us", adding that splitting production between the two countries "will give us greater flexibility for other models".
Copyright Press Association 2014