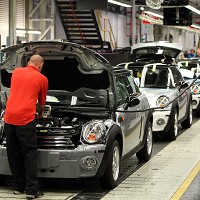 Thousands of workers will be delighted to hear that BMW is planning to invest an additional £250m in its UK Mini factories over the next few years.
The German firm said that it will invest the £250m in the three Mini factories by the end of 2015, safeguarding 5,500 UK jobs.
BMW, which operates plants near Oxford, Swindon and Birmingham, also announced that it will be releasing up to 10 new Mini models.
Additional production capacity is now need at the car production plant in Oxford in order to cope with BMW's future plans for the popular Mini and the company said that they are looking in to how this can be achieved.
Harald Krueger, Member of the Board of Management at BMW Group, said: "Over the last 11 years, Mini has been a unique global success and the BMW Group has even greater plans for the future development of the brand. "Plant Oxford has played a major role in this with cars being exported to over 100 countries around the world."
This new investment is in addition to the £500m the car manufacturer announced a year ago.
Copyright Press Association 2012