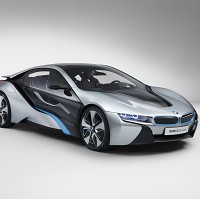 BMW plug-in hybrid sports cars will be equipped with a new generation engine which will be built in a UK factory.
The factory at Hams Hall, close to Birmingham, will produce the 3-cylinder petrol engines. according to Ian Robertson, who is on BMW's Board of Management.
The factory produced its three millionth engine last week, after being opened in 2001.
Robertson made the announcement in London, speaking at the Society of Motor Manufacturers and Traders International Summit. He said: "The new 3-cylinder petrol engines will enable our future BMW i8 plug-in hybrid sports car to set new standards for dynamic performance in combination with industry-leading fuel-efficiency and low carbon emission levels."
Vince Cable, the Business Secretary said: "BMW's decision to produce engines for their i8 plug-in hybrid sports car at Hams Hall is more good news for the UK automotive sector and underlines its growing competitive strength.
"It is yet another indication that international companies see the UK as one of the best places to develop and manufacture low emission vehicle technologies."
Copyright Press Association 2012