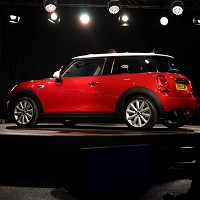 BMW has unveiled its "new original" Mini at a special event at its factory at Cowley in Oxford.
It says the latest version is a quieter, longer, wider and taller car. Mini fans won't have long to wait to arrange car insurance and get behind the wheel as it is due to be available in the spring from £15,300.
The German car giant is ploughing £750 million into making the new Minis at the Cowley plant, where the cars have been built since 2001. Prime Minister David Cameron said the investment is great news for Britain and the "classic British icon".
BMW said its latest Mini is safer, more spacious, better finished and provides a more dynamic driving experience than its predecessors.
Work is due to begin this week on the new car, which will come with three versions; the Mini Cooper, the diesel Mini Cooper D and the Mini Cooper S.
The unveiling to hundreds of guests - including Transport Secretary Patrick McLoughlin and many executives from Germany - was held 107 years to the day after Sir Alec Issigonis, the designer of the original Mini was born.
More than 5.3 million Minis were made before BMW modernised the model in 2001.
Copyright Press Association 2013