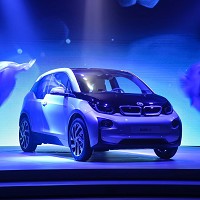 A global audience at simultaneous press conferences has been the first to see the all-new BMW i3 electric car.
Dubbed the Mega City Vehicle during its development, the company's long-awaited first electric car will be available in two drivetrain configurations.
A 168bhp, 184lb.ft motor hooked up to a compact battery arrangement should provide the cheaper of the two.
It will use electric power only and should last 80-100 miles per charge in real-world use.
After the £5,000 government plug-in vehicle grant, this version of the i3 should cost £25,680, with car insurance and breakdown cover deals available.
It shares its 2+2 door layout with the second model, the range-extender version called the i3 REx.
This features a 650cc two-cylinder petrol engine borrowed from a BMW maxi-scooter.
Unusually, rather than just driving the wheels, the engine simply generates enough electricity through its two gallon fuel tank to boost the i3's theoretical maximum range to about 210 miles using the special low torque, 50mph-limited EcoPro+ mode.
The i3 REx will cost £2,000 more than the basic electric model.
A leasing deal is available which involves a deposit of £2,995 followed by 36 monthly payments of £369.
Alternatively, the other purchasing option is the straightforward cash price.
Copyright Press Association 2013