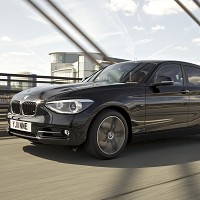 BMW is releasing a new three-door version of its entry-level 1 Series model, which it hopes will appeal to even more company car users.
The 114i has a similar 1.6-litre petrol engine to the 116i and 118i, which produces 102bhp and CO2 emissions of 132g/km, but P11D prices will start from £17,125 as opposed to upwards of £17,655 for other five-door models.
Annual BIK tax bills will also start at less than £600 for the new three-door version and the German car giant is planning to expand the 1 Series range even further after it was launched around a year ago.
The high-performance 320bhp M135i is due to be introduced at the top end of the range, with the twin-turbo 2.0-litre diesel 125d M Sport offering CO2 emissions of 129g/km also being brought in.
And competition in the premium lower-medium sector is getting tougher with Audi releasing the new A3 and A3 Sportback in the UK shortly, Mercedes-Benz launching a new A-Class at the end of the year and Volvo bringing out the new V40 hatchback.
Copyright © Press Association 2012