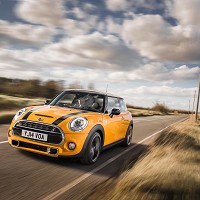 BMW's new Mini Hatch combines the best of both worlds - it's a tried and trusted favourite, but with a complete overhaul.
Designers have gone back to the drawing board on every little detail in a bid to give it the best possible functionality, performance and style.
Technology, engine efficiency, power delivery, driving dynamics, quality and personalisation all come upgraded in "The New Original" - and it's also quieter than the previous version.
The new Mini Hatch also has more interior capacity than previously and is finished to an even higher specification. It is said to offer motorists a more dynamic and performance-oriented experience.
Inside, new technology ensures that the latest Mini is the most connected car of its type. A pioneering central LED display provides drivers with visual feedback while operating the vehicle.
Its makers believe the upgraded model reflects its unique British heritage while being well positioned to take Mini into the late 2010s and beyond.
The new Mini Cooper Hatch begins at £15,300 on the road.
Copyright © Press Association 2014