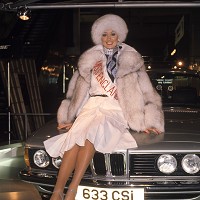 BMW is boasting a 7.6% year-on-year rise in worldwide sales across all of its brands.
Even last year, the group was the top-selling premium car manufacturer - selling 1.96 million compared with 1.58m Audi vehicles and 1.46m from Mercedes.
Now it is due to sell more than two million after a record-breaking November. Most BMW sales were down to its main brand as numbers took a boost from sales of new models; the 2-series Active Tourer and the 4-series models.
BMW, Rolls-Royce and Mini sold 188,342 cars between them last month - compared with 174,992 in November 2013 - with Mini showing a 16.7% rise to 29,018.
BMW AG's Ian Robertson describes the US market as robust and Asia as mixed but with "strong positives", while admitting the Russian market is "challenging".
Europe is developing, though from a low base, according to the board of management member responsible for marketing and sales.
In the case of Mini, the increase in sales was basically due to the three-door Hatch which sold 26.3% more this year (amounting to 24,873 sales) than in 2013, although sales were helped by the new five-door mode (4,033 sales).
The new Hatch hit these sales with a 3.3% drop in Mini sales overall throughout this year to date, compared with the same period in 2013.
Copyright Press Association 2014