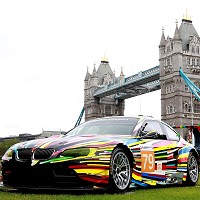 An exhibition featuring some of BMW's vintage motors combined with art is set to be launched as part of the London 2012 Festival.
Between July 21 and August 4, Shoreditch car park will welcome high-end motors which have been painted by some of the most talented artists from the UK and beyond. It will be the first time that a BMW Art Car Collection has been showcased in Britain.
The collection first began more than 35 years ago when HervŽ Poulain, an auctioneer and French racing driver, asked a friend to create a car that combined "artistic excellence" with "an already perfect object". The finished product was considered so good it was raced in the Le Mans 24-hour tournament in 1975 and set the trend for BMW Art Cars.
Today the world's best artists - such as Alexander Calder and Andy Warhol - have placed their stamp on a number of BMW motors which will be displayed for both art lovers and car enthusiasts.
The Institute of Contemporary Arts (ICA) collaborated with the German car manufacturer, as well as the Mayor of London and the official Olympics festival to set up the exhibition.
Copyright Press Association 2012