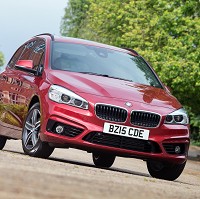 BMW looks like setting fresh sales figures again this year across Britain.
Motorists buying a car from the BMW stable are being increasingly tempted by contentious new vehicles, according to the firm's executives.
A while ago, the German firm decided to gamble on upsetting the purists by going against its design tradition when it came to creating new cars.
Its 2 Series Active Tourer is today BMW's third favourite model among UK buyers with 8,000 units sold in 2014. But the five-seater sparked outrage for its switch to a front-wheel drive vehicle.
Only BMW's 3 Series and the 5 Series boasted better sales figures.
The press launch of the 2 Series Gran Tourer underlined the main factor behind BMW's continued growth. The company said that better customer retention rather than conquest sales - or where consumers switch to BMWs from other makes - is the biggest reason.
A spokesman said that the firm is offering existing customers more choices so that they don't have to move on to other carmakers if their circumstances alter.
For example, previously some customers have had more than two children, meaning that they had outgrown BMW's models. Not any more.
The new seven-seat Gran Tourer MPV aims to keep existing customers who need to upgrade from Active Tourer vehicles in the 2 Series or 3 Series range.
The Munich-based company's executives forecast that 4,000 British motorists will buy the latest model next year.
Its advantages over the old Active Tourer are considerable. The MPV is 5cms (1.96in) taller, 11cm (4.3in) longer in the wheelbase and a far greater boot capacity. This ranges from as much as 145 litres when all of its seats are in place through to an impressive 1,820 litres when the third and second seat rows are collapsed.
The new Gran Tourer's passenger seat in the front can fold flat to enable items as long as 2.4 metres (7ft 10in) to slide in.
It also includes, unusually, three Isofix middle row seat mounts for children. The manufacturer has made suitable child seats which suit the space.
Copyright Press Association 2015