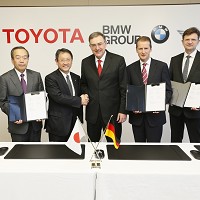 Two major motor companies are joining forces to develop sustainable technology for a new sports car.
Toyota Motor Corporation (TMC) and BMW are working together to create lightweight technologies, fuel cells, components and new battery materials with the aim of developing a prototype by 2020.
A press release from Toyota said that the two motor companies believe that zero emissions could be achieved through fuel cell technology.
It added that the two companies want to boost the viability and functionality of the technology.
The finished prototype will feature a hydrogen tank, fuel cell stack and system, motor and battery.
They will also work together to look at the infrastructure requirements for cars powered by hydrogen.
As part of the agreement between TMC and BMW reinforced composites will be developed in a bid to create components for a shared lightweight sports car, which is missing from both companies ranges.
Models in both companies car lines will also receive new components, the statement said, which could benefit not only the environment but car insurance costs too.
Norbert Reithofer, chairman of the board of management of BMW AG, said: "TMC and the BMW Group share the same strategic vision of future sustainable mobility.
"In light of the technological changes ahead, the entire automotive industry faces tremendous challenges, which we also regard as an opportunity.
"This collaboration is an important building block in keeping both companies on a successful course in the future."
Copyright Press Association 2013