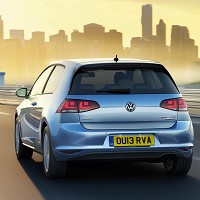 Volkswagen Golf has unveiled the highly efficient BlueMotion model as part of its range.
Offering a claimed fuel economy of 88.3 mpg on the combined cycle and CO2 emissions of 85 g/km, BlueMotion still offers the refinement and comfort of the standard car.
With its 50-litre fuel tank and 88.3 mpg fuel consumption, the vehicle has a theoretical range of 970 miles, meaning most drivers will only have to refuel 10 times per year (assuming an average annual driving distance of under 10,000 miles).
Additionally, there is no tax to pay, thanks to band A Vehicle Excise Duty. It all comes together to perhaps free up cash for more comprehensive car insurance .
This reduction in the car's combined fuel consumption has been achieved through lightweight design and engine-related modifications amongst other measures.
These include super low rolling resistance tyres with higher air pressure, longer gear ratios (six-speed manual gearbox), standard Stop/Start and battery regeneration systems and specific aerodynamic modifications.
At the heart of the new car is a 1.6-litre 110 PS common rail TDI from the new EA288 engine series. Prices for the new Golf BlueMotion start at £20,335 for the three-door and rise to £20,990 for the five-door, with specification based on that of the standard Golf S.
Copyright © Press Association 2013