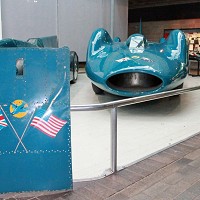 The Bluebird CN7, belonging to Land Speed Record holder Donald Campbell, has been reunited with its original nose.
The nose was damaged during a World Land Speed Record attempt on the Bonneville Salt Flats in Utah, US in 1960. Following the crash, the car was sent to Coventry to be rebuilt in order to make it more stable at very high speeds.
However the original nose, which was removed during the rebuild, lay hidden for 50 years until it was discovered by Motor Panels, the firm originally hired to repair it.
The company, now known as Stadco, contacted the National Motor Museum at Beaulieu in Hampshire to arrange handing the nose over to the museum where the car is now kept. They also discovered 26 unique reels of 16mm film of the car.
"We are very proud of our historic link to Bluebird and these artefacts were a very exciting find for us. We were keen to ensure they found the right home and are very pleased to donate them," Paul Jaggers, Stadco's product development director said.
Copyright Press Association 2013