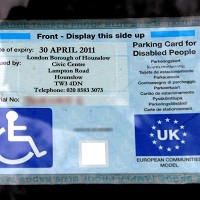 The Government is considering reforming the rules that surround the issuing of blue disabled badges to drivers as a part of their plans to change the way disability welfare payments are worked out.
The new scheme would see disabled people undertaking new tests to assess what benefits they will receive as well as their ability to work, and could also see some less disabled drivers failing to meet the required criteria to get a blue badge - which allows drivers to park on double yellow lines and use disabled bays.
Commenting on the plans, transport minister Norman Baker said he was "committed" to making sure that the blue badge scheme will focus on "people who will benefit most from the parking concessions it offers" and will remain "sustainable in the future".
He said that any changes to the blue badge scheme would be "phased in" and would only affect badge holders once their existing badge expires.
There will be a three month consultation on the proposals before any decision is made.
Copyright © Press Association 2012