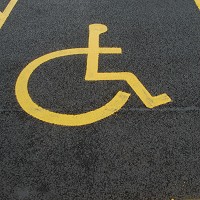 Motorists misusing disabled parking badges in Scotland are to be targeted by police as part of a nationwide crackdown.
Local authorities across the country have agreed to let officers access the Blue Badge Improvement Service database, a national record of blue badge holders.
They will be able to immediately identify people who misuse blue badges, such as those who use a disabled relative's badge contrary to its conditions or fail to return a badge when the user no longer needs it.
Rose Fitzpatrick, Deputy Chief Constable of Police Scotland, says abuse of the scheme makes life harder for individuals who need access to places like medical centres and social facilities.
She claims people may also be committing fraud if they use a blue badge to obtain free parking to which they are not entitled.
Blue badges are the property of local authorities, who have the power to cancel a blue badge if the owner is found to be misusing it.
Offenders may also be fined up to £1,000 plus any additional penalty for any related parking offence.
Councils were recently given more powers to deal with blue badge abuse, making it an offence to use a badge which should have been cancelled or returned.
Copyright Press Association 2016. Motoring News articles do not reflect the RAC's views unless clearly stated.