New World Land Speed Record car has 1,000mph in sight.
Bloodhound SSC, the British rocket- and jet-powered car that's aiming to set a new World Land Speed Record, has successfully completed its first public runs – hitting a top speed of 210mph in the process.
Held on the runway at Cornwall Airport, Newquay, two shakedown runs were completed without fault on Thursday 26 October, ahead of planned faster runs throughout 2018 as the team builds up to its 1,000mph target top speed in 2019.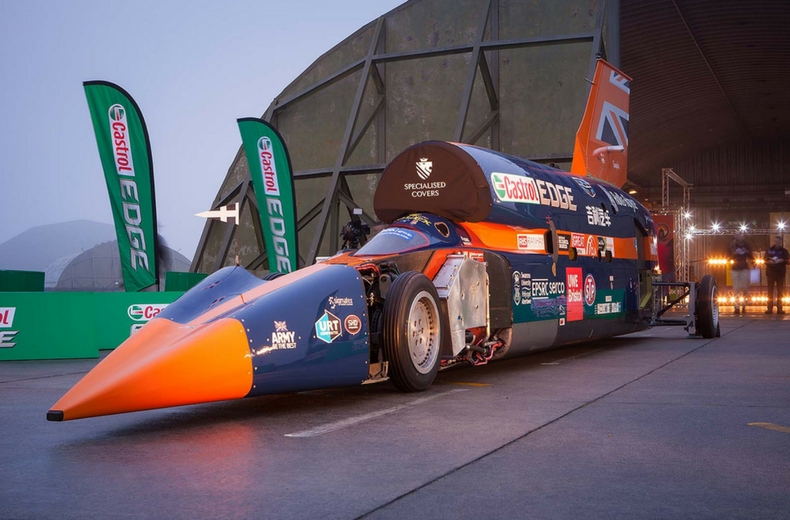 A crowd of around 3,500 attended to watch the new car run as current World Land Speed Record holder Andy Green was again behind the wheel to accelerate the five-tonne machine from 0-210mph in just 8.0 seconds.
Although the serious testing and development will start in earnest in 2018, the team was still keen to run the new Bloodhound SSC car this year: it is 20 years since its predecessor, Thrust SSC, set its 763.035mph World Land Speed Record.
After the run Green emerged from the cockpit delighted and said: "The car is already working faster and better than we expected. I cannot wait to go faster!"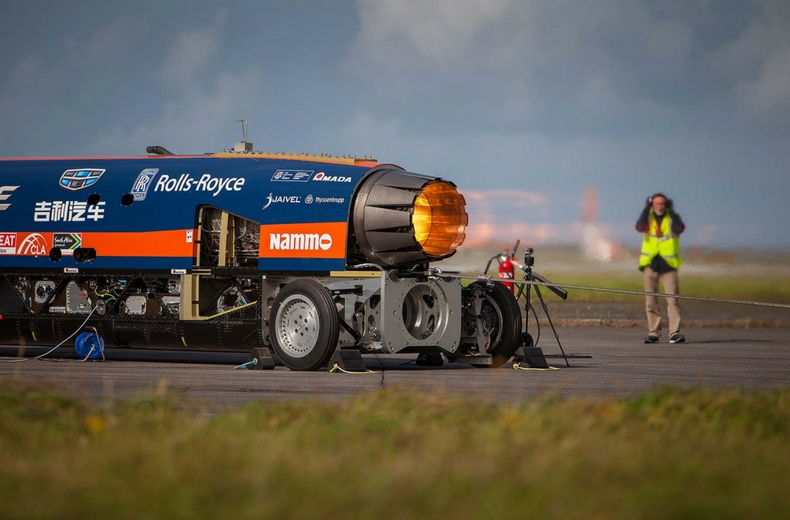 "It's also notable for being the longest period that we've run the car for, at around 21.5 minutes – and remember, it's designed to run for just two minutes at a time in the desert."
Bloodhound SSC is not short of power: equipped with a Rolls-Royce EJ200 jet engine from a Eurofighter Typhoon (its power is equivalent to 360 family cars). This alone gives it enough speed to run faster than any course in the UK will allow.
And although it has only completed a fifth of its ultimate target speed (still faster than all but the most potent supercars) these past few weeks' testing in Newquay makes the team believe the car can attain 650mph (1,050km/h) with just the EJ200.
The aim is to go 800mph in 2019, and then up to 1,000mph in 2020 when fitted with a rocket motor - when the technology becomes available.
"It's a proper race car," said Green – who reported the brakes hit a peak temperature of 1,000deg C even during his airport run. "There was even a flicker of a flame on one of them..."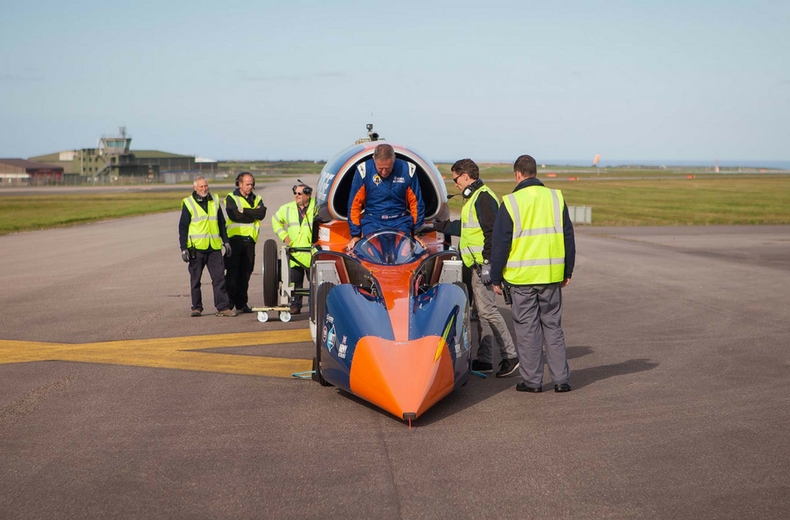 The Bloodhound project - what you need to know
The project is more than just setting a new world record, though. Bloodhound SSC aims to involve the nation and inspire the next generation of engineers: the legacy will be more than just a new fastest speed headline.
That's why the Bloodhound Education Programme has been made available to all primary and secondary schools, and students in further and higher education. More than 4,000 schools are already registered in the programme which aims to motivate youngsters to look at STEM subjects in a new light.
The previous world land speed record was set back in 1997, by Wing Commander Andy Green OBE. He hit a top speed of 763.035mph, setting the world's first supersonic land speed record.
For Bloodhound SSC, Green returns to the cockpit – and neatly, the overall director of the project is Richard Noble, himself a world speed record holder from back in 1983!
What is the Bloodhound SSC car?
Bloodhound SSC is the world's most advanced car. Like road cars, it has four wheels and an engine… but it also weighs 7.5 tonnes, is 13.4 metres long and as well as a Jaguar V8 engine, also has a jet engine and rocket propulsion!
Remarkably, the jet engine is from a Eurofighter Typhoon. It is the main driver of Bloodhound SSC – but even such a monstrous motor is not enough to take the vehicle to 1,000mph. For this, the additional boost from the rocket is needed: once at high speed, it ignites and burns 800 litres of peroxide in just 20 seconds.
And the 550hp 5.0-litre supercharged V8 Jaguar engine, as seen in the Jaguar F-Type SVR amongst others? Why, it is there to power the fuel pump for the rocket! This alone gives you an idea of how immense Bloodhound SSC is.
That Jaguar F-Type SVR will hit 0-62mph in less than four seconds. Bloodhound SSC will cover a full mile in less than four seconds. It also produces 135,000hp in total and will become the world's first vehicle ever to travel for a sustained time above the speed of sound: the target is Mach 1.3.
RAC and Bloodhound SSC: in partnership
The RAC is now a partner in the Bloodhound SSC project and members can help support the project with a special package. For £20, you can get your name on the Bloodhound SSC tail fin, receive a personalised digital certificate showing exactly where on the tail fin your name will be written, and also get Bronze Membership of the 1K Club.
"The Bloodhound Team and I are absolutely delighted to be working with the RAC," said Bloodhound Project Director Richard Noble. "I have been an RAC member all my life and the highly professional RAC patrols have got me out of trouble a number of times. This partnership is going to be tremendously exciting, and we all believe it is going to be a massive success for the RAC and Bloodhound.
"This is what motoring is all about."