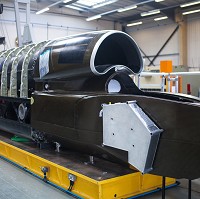 The British-based attempt to create the first 1,000mph vehicle is getting a helping hand from the latest jet engine.
The Bloodhound arrives in the South African desert next year with the aim of completing laps of a 12-mile testing track in just two minutes.
The EJ200 engine, usually seen in Eurofighter Typhoons, was fitted to the record-chasing £10 million supersonic motor on Thursday.
Five engineers at the Avonmouth Bloodhound technical HQ took eight hours to install it.
Mark Chapman, the Bloodhound's chief engineer, called the fitting a "fantastic" chapter in the enterprise.
The end product will be seen next summer at Newquay, Cornwall's Aerohub, where "low-speed" testing of a maximum 200mph is planned.
The newly-fitted nine-tonne engine exerts nine tonnes' worth of thrust.
The car, at top speed, is expected to eventually produce nearly 2G of acceleration force.
Copyright Press Association 2014