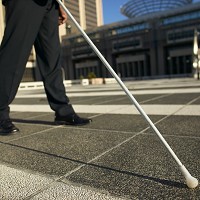 Walking down the street is like negotiating an 'obstacle course' for blind people, who regularly collide with parked cars and advertising boards, a new survey suggests.
The poll carried out by the Royal National Institute of Blind People (RNIB) shows one in three people who are blind or partially sighted have hurt themselves while out walking in their local area.
The vast majority (95%) have walked into something such as a parked car, an advertising board or a wheelie bin.
One of the survey participants, Northumberland resident Bob Potter, informed the charity of the many bruises and scars he has on his legs caused by bumping into advertising boards.
People with visual impairment should be able to walk around the streets just like all other pedestrians, says Fazilet Hadi, the RNIB's director of engagement.
She says councils should be doing far more to make the streets safer for people who are blind or partially sighted.
Copyright Press Association 2015