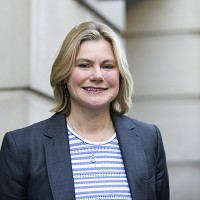 The Transport Secretary has encouraged young motorists to consider fitting their cars with 'black boxes' in order to cut car insurance costs by up to 50%.
The technology is normally associated with aeroplanes but Justine Greening believes that its ability to monitor speed, acceleration, braking and cornering could help to reduce car insurance premiums by showing how safe young drivers actually are.
It has recently been revealed that young male drivers are now paying an average of nearly £3,000 per year for their premiums, leading the Conservative MP to suggest that the costs have "little relationship to the real world" and call for more to be done.
"The Government has already taken tough action to ban referral fees, reform no-win no-fee rules and crack down on fraudulent whiplash claims. But I think we can go further," she said.
"Why is it, when the overwhelming majority of UK young drivers are amongst the safest in the world and we are seeing faster reductions in casualties for this age group than for all drivers as a whole, that premiums are still sky high?"
Insurance companies are claiming that drivers under the age of 25 are more likely to be involved in a collision late at night or early in the morning and are advocating a strict curfew on them as a result.
However, the 'black boxes' also measure the time that a journey is being taken and Miss Greening insists that their use can prove that night-time driving isn't that common and safe practices are being observed and car insurance costs can be cut by as much as half as a consequence.
Copyright © Press Association 2012