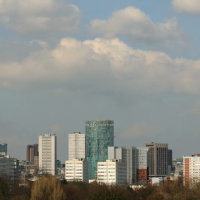 Birmingham is the country's whiplash fraud capital, according to new figures.
The amount of so-called "crash-for-cash" claims peaked in 2014. This number has dropped by only 2% a year later.
These cases see fraudsters deliberately target law-abiding drivers to make dishonest whiplash claims through their companies.
The RAC says the rising publicity surrounding these incidents has sparked a big rise in sales of .
The motoring organisation introduced these three years ago and motorists are out to safeguard themselves and lower their own premiums on insurance cover.
Coventry and Leeds follow behind Birmingham as crash-for-cash hotspots, according to a leading insurance company.
Bradford, Oldham plus locations in London complete the top six.
Pete Williams, spokesman for the RAC, said: "Dash cams give drivers an added level of protection to guard against unexpected malicious events taking place on the road which they might otherwise struggle to prove.
"By having a visual record of what took place it is far easier for an insurer to come to the right conclusion and avoid the affected motorists being unfairly penalised by a potential fraudster.
"The RAC Shop has seen demand grow significantly and our own research shows that around 9% or 2.9m of the driving population now regularly use a dash camera and more than half (52%) of motorists are considering buying one."
Copyright Press Association 2016. Motoring News articles do not reflect the RAC's views unless clearly stated.