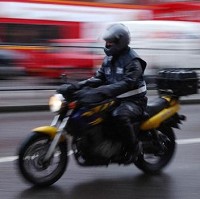 Motorcyclists planning to take a late summer road trip have been issued with a set of tips to help them stay safe.
The Institute of Advanced Motorists (IAM) is urging riders to carefully check their tyre pressure and tread depth while looking out for any signs of damage, enabling them to have any necessary repairs carried out before they hit the road.
And Peter Rodger, the institute's head of riding standards, says bikers should resist the temptation to ride without the correct protective clothing if the temperature starts soaring.
With the air often full of flying insects, he is also calling on riders to make sure they have a way to keep their helmet visor clean.
Motorcyclists are additionally being advised to take a break at least once every two hours and to have a supply of water handy to prevent them getting overtired and dehydrated.
The IAM's other recommendations include planning routes in advance with a journey planner, and remembering that it is harder for other road users to see bikes clearly when the sunlight is strong and bright.
Copyright Press Association 2015