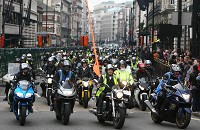 Hundreds of motorcyclists joined a protest against a "crazy" parking tax levied by Westminster City Council.
They rode their machines through central London in a colourful and noisy demonstration to show their opposition to an "illegitimate" introduction of the tax.
Organisers said the ride was the latest in a series of events targeting the "total withdrawal of all parking taxes levied on motorcyclists and a full refund of all fees paid to date by riders who had no other option but to pay them".
No To The Bike Parking Tax campaign chief Warren Djanogly said: "We will overturn this nauseating tax, and the longer it remains unchanged, the bigger the bloody-nose its architects will receive."
Danny Chalkley, Westminster City Council's cabinet member for city management, said: "As was stated from the outset, a thorough review of the motorbike charging scheme has been carried out and all feedback, both positive and negative, will be carefully considered before any decision is made on the future of this particular policy."
Motorcyclists are set back £1 a day to park in Westminster which has nearly 7,000 dedicated bays as well as a further 900 free spaces in car parks, he said.
Copyright © Press Association 2009