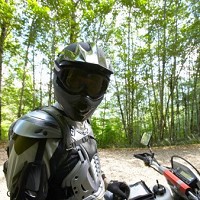 Damning biker casualty rates have prompted the Government to launch a safety campaign urging drivers to consider the motorcyclist beneath the helmet.
Bikers make up just 1% of traffic but 19% of deaths on Britain's roads. Thirty motorcyclists are killed or injured in accidents at junctions every day.
Road Safety Minister Stephen Hammond, who launched the £1.3 million initiative, said he is determined to reduce this "terrible toll".
The campaign coincides with the expected rise in the number of bikers checking their motorcycle breakdown cover and oil levels and taking to the roads as daylight hours lengthen, with the clocks going forward on Sunday March 31.
The number of motorbiking accidents rise substantially during March and April.
The campaign, which ends in May, is part of the Government's continuing THINK! push to encourage safer road behaviour.
Mr Hammond is reminding drivers to look out for motorcyclists - particularly at junctions - and to "see the person behind the helmet, not just a motorbike".
Research shows that drivers are more likely to notice bikers on the roads if they know a motorcyclist themselves.
A total of 5,609 motorcyclists were killed or seriously injured in 2011.
Copyright Press Association 2013