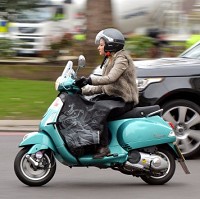 Motorists are being urged to steer clear of accepting the 'ice bucket challenge' while on the road, after a young motorcyclist was hurt in West Sussex.
The man suffered minor arm and hand injuries after a friend chucked a bucket full of icy water on him as he rode his bike in Southwick.
Now police are calling on road users to use their common sense when it comes to taking part in the charity challenge, which has been taken on by celebrities and millions of ordinary people over the last few weeks.
Sussex Police Sergeant Stewart Goodwin says the 19-year-old, of Shoreham, is lucky that he wasn't more seriously injured.
He says although the challenge raises money for worthwhile causes people should ensure they take it on in a safe and sensible way.
The Motor Neurone Disease Association says the ice bucket challenge has raised more than £2 million in Britain alone.
Copyright Press Association 2014