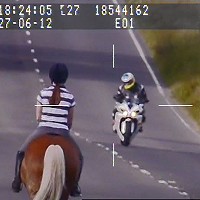 A motorcyclist has been banned from driving for 70 days after being clocked at 104mph speeding past a horse and rider on a quiet North Yorkshire road.
North Yorkshire Police claimed that Garry James Wilkinson, of Huntingdon, York, showed a "shocking" disregard for the safety of other road users when caught on camera in June.
The 41-year-old was caught on his Yamaha YZF R1 by a mobile safety camera on Escrick Road, Stillingfleet, North Yorkshire, and pleaded guilty to the charges at Selby Magistrates' Court.
He was fined £360 for breaching the speed limit, with costs of £45 and a victim surcharge of £15.
Zoe Billings, traffic constable for North Yorkshire Police, said: "The disregard shown by Wilkinson for the safety of the horse and rider is shocking.
"The horse was clearly visible to him as he approached along the straight road. It was only because of the very good road sense of the animal that a serious incident was avoided.
"Wilkinson should think himself fortunate to have been facing a speeding charge and nothing more serious."
Copyright Press Association 2012