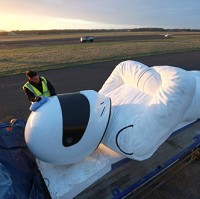 Top Gear's mysterious driver The Stig is big in Europe in more than one way.
A huge nine-metre statue of the anonymous test driver has been loaded onto a truck in preparation for a tour across Europe as part of a promotion for a new BBC channel.
The figure, complete with trademark crash helmet and crossed arms pose, was loaded onto the flat-bed truck at the Top Gear headquarters at Dunsfold in Surrey.
It will now embark on a three-day journey, calling in at Amsterdam in Holland and the German capital Berlin before its final destination of Warsaw in Poland.
The huge figure of The Stig, which took a team of three people two months to design and build, is being shown to mark the launch of BBC Brit.
The channel launches in Poland at the start of next month and will feature a number of BBC shows, including Top Gear.
Copyright Press Association 2015