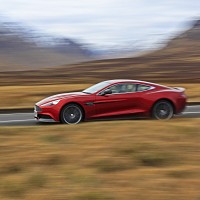 The motoring public's taste for efficient vehicles is not putting off some of the finest car-makers in the world from revealing their new high performance models in Britain next month.
Among the vehicles on display at the Performance Car Show at the Birmingham NEC between January 9 and 12 are the Aston Martin Vanquish, Ferrari F12 Berlinetta, Jaguar XKR-S GT and McLaren 12C Sprint.
The Ferrari's three-second and 6.5-second 0-62mph and 0-100mph times come courtesy of its 6.3-litre V12 engine. It will certainly turn a few heads, while the Aston Martin will win their hearts, with its 565bhp V12 engine and top speed of 183mph.
If driving electric is more your style, then the there's the Tesla Model S, while Caterham will show how it is breaking down barriers with its AeroSeven concept.
Vauxhall, Abarth and Porsche will also be among the manufacturers at the event showing of their latest models.
Tickets cost £31 for adults, £20 for children aged five and over and anyone younger will get in for free.
Copyright Press Association 2013