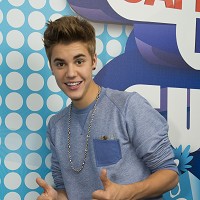 Troubled pop heart-throb Justin Bieber will take an anger management course as a part of his punishment after an arrest in South Florida for suspected drag racing.
Bieber, 20, and two other men were originally charged with driving under the influence, but under a plea agreement they will face charges of resisting arrest without violence and misdemeanour careless driving instead.
The star will not spend any time in jail, but he will have to pay fines and 50,000 dollars to charity, as well as seek help to manage his anger.
The charges relate to Bieber's arrest in Miami Beach on January 23. At the time police said he was involved in a street drag race, which is against the law in Miami-Dade County in Florida.
Bieber was in a rented Lamborghini sports car and he was thought to be racing against R&B singer Khalil Amir Sharieff's Ferrari.
However, no drag racing charges were lodged and police could not prove they were driving faster than the road's speed limit.
Officers tested Bieber's breath and found he was under the 0.02 legal alcohol limit for his age but there was evidence of marijuana and anti-anxiety drug Xanax in his urine.
Bieber faces a charge of resisting arrest for swearing at police and driving a vehicle with a licence that had expired.
Copyright Press Association 2014