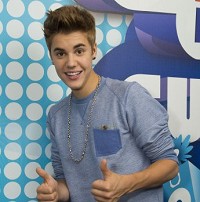 Justin Bieber is being investigated for reckless driving.
This follows complaints about the pop star's alleged speeding in the Los Angeles gated community in which he lives.
Bieber, 19, allegedly drove his white Ferrari at freeway speeds in a 25 mph area, a sheriff's spokesman said.
Former NFL footballer Keyshawn Johnson was among those who complained.
Johnson was with his three-year-old daughter when Bieber reportedly whizzed by.
The footballer was annoyed and got into his car, following Bieber to his nearby address.
As the garage door was closing, Johnson put out his arm and stopped it, telling Bieber he wanted a chat about his driving.
Police said Bieber went into his home without talking.
The Los Angeles County Sheriff's Department arrived at Bieber's home after two phoned complaints, but were turned away when they tried to speak to him.
Officers plan to send a reckless driving report to the Los Angeles County District Attorney's Office to consider filing charges early next month.
Copyright © Press Association 2013