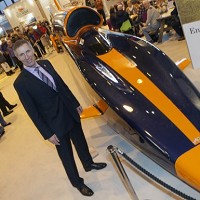 For most motorists driving at 100mph would be a nerve-racking, not to mention illegal, experience.
But 51-year-old RAF fighter plane pilot Andy Green is aiming to become the first person to drive at 10 times the speed.
Now his dream of driving the £10 million Bloodhound car at 1,000mph has moved a step closer with the unveiling of its cockpit.
Tailor-made to meet the needs of Wing Commander Green - who already holds the 763mph current world land speed record - and withstand the forces that will be generated at such high speeds, the state-of-the-art cockpit has taken over 10,000 hours to design and build.
Made from layers or carbon fibre weave and aluminium, the 200kg cockpit will be bolted onto the rocket-powered Bloodhound's metallic rear chassis.
Its roof has been designed to generate shockwaves that will push air into the car's jet engine.
When it's completed the pencil-shaped, 12ft long Bloodhound is expected to be able to generate the power of 95 Formula 1 racing cars.
Copyright Press Association 2014