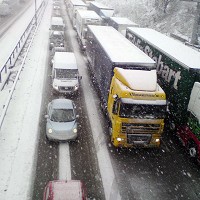 A new campaign bids to help reduce the number of road fatalities related to the winter weather.
The arrival of winter brings the prospect of snow and ice, as well darker mornings and evenings when commuters are making they way to and from work.
All this adds up to more dangerous conditions for driving, backed up by official statistics which show that car drivers were involved in 57,260 accidents in England and Wales last year due to wet, flooded or icy roads. There were also more than 5,000 accidents involving motorcyclists during the same period.
All of the RAC's winter driving advice can be found here.
A fair proportion of the accidents - 11,614 - were the result of skidding; suggesting that motorists may not be adapting their driving to the conditions.
It can take twice as long to stop when the road is wet so drivers should slow down and keep a safe distance from the vehicle in front.
People tend to think of the RAC for just breakdown but we now offer Accident Care to members who need to have their vehicles rescued or recovered following road accidents. Wherever possible, the RAC will aim to recover the cost of this service on the member's behalf.
The wheels in winter campaign from the Institute of Advanced Motorists will offer weekly advice to road users, including weather forecast updates, in a bid to make motorists more aware about how to drive during the season, and keep them informed about the conditions they may face if they have to venture out on the roads.
Copyright Press Association 2014