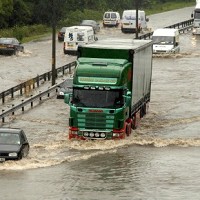 Motorists around the UK can look forward to vastly improved weather forecasts, thanks to a new supercomputer at a cost of nearly £100 million.
Drivers being caught unawares by flash floods and other hazardous road conditions, could increasingly become a thing of the past.
The Met Office's £97 million High Performance Computer (HPC) can better tell drivers when to expect huge snowfall, robust winds, flooding and fog.
This means that motorists are likely to reduce their risk of having to call out their breakdown service provider because they have been caught short by the elements. Drivers will benefit from its hourly updates plus hugely detailed local weather data which will be phased in from September 2015.
The computer is not only 13 times faster than the present system, it is hoped to be the world's most accurate forecaster.
The US-built HPC, which weighs the same as 11 two-tier buses at 140 tonnes, is expected to boost the economy by £2 billion.
This is because businesses will be better equipped to plan around the elements, and it will help to make Britain more durable against extreme weather.
Copyright Press Association 2014